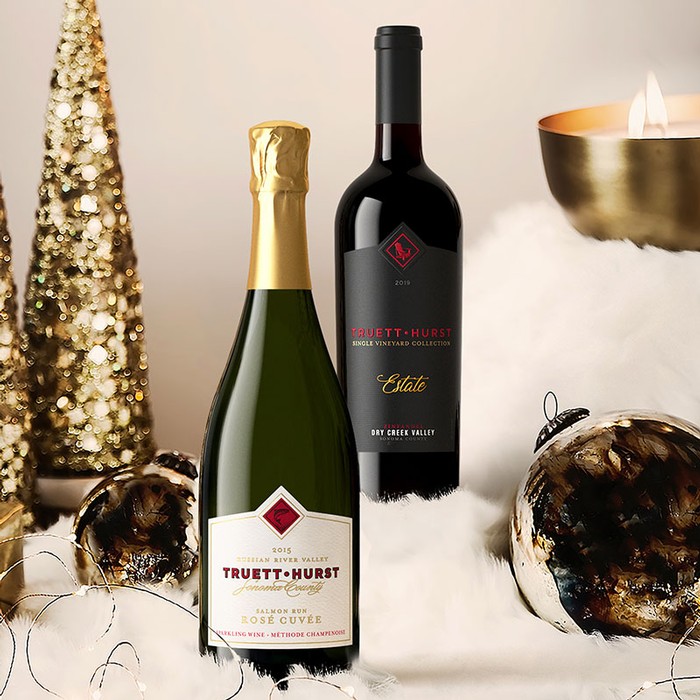 Sparkle & Shine
$118 value/ Gift Set price $99 with $15 flat rate shipping. Shipping waived for Club members
This gift set is all you need to celebrate the holidays in style. Our inaugural sparkling rosé was made in the traditional méthode champenoise method, Brut style, and aged almost 4 years on lees. Its refined bubbles accentuate delightful wild strawberry notes on both the aromatics and the palate. Flavors are generous but balanced- sweet fruit checks crisp acidity. The finish has bountiful fruit notes that linger.
The Estate Zinfandel really shows off the quality of our Biodynamic vineyard. This wine has incredible concentration and poise, with blackberry, elderberry jam and clove aromatics. Notes of Maraschino cherry, orange peel, and grape jam fill out the palate. The mid-palate is complex and full-bodied, but tannins are smooth and an elevated balance persists. Powerful yet elegant, this wine delivers classic Dry Creek Valley zin.
This gift set includes two fabulous wines, a lovely gift box, a gift card that can be personalized, and a 2 for 1 Homestead Tasting certificate. Shipping is a flat fee of $15 but is waived for our Wine Club members.