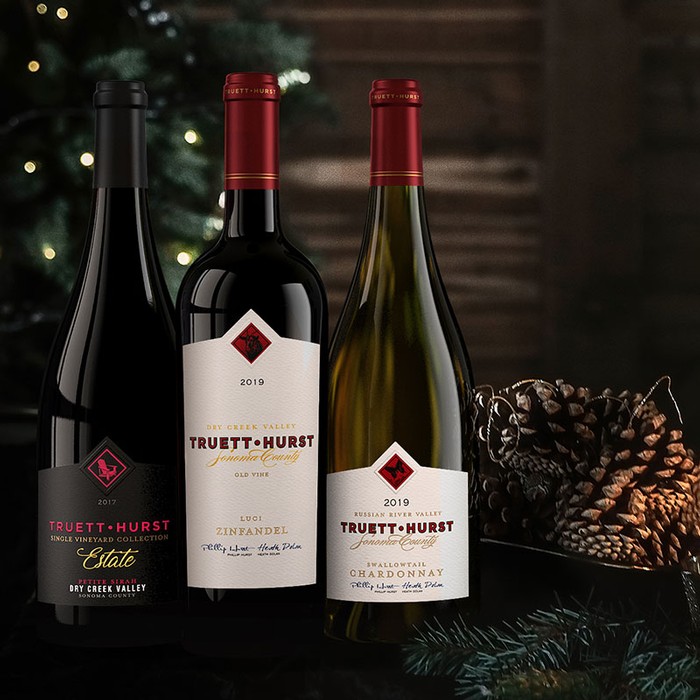 Deck the Halls
$136 value/ Gift Set price $120 with $15 flat rate shipping. Shipping waived for Club members
Showcasing two great wine producing appellations, our Swallowtail Chardonnay is a Russian River beauty and the Estate Petite Sirah and Southdown Zinfandel are epic Dry Creek Valley. This collection kicks off with the Swallowtail, that delivers exactly what you'd expect from a Russian River Chardonnay. The nose is expressive, with notes of lemon pie, honeysuckle, and white flower all competing for your aromatic attention. The palate is rich lemon meringue and crispy apple tart. It's interesting that there are both creamy and acidic notes layered in this wine, which contributes a curious layer of complexity. The creaminess shows up mid-palate, but that rich weight gives way to a delightfully fresh finish.
The Southdown Zinfandel aromas are really intoxicating, with super exotic winter spice notes along with strawberry and blackberry preserves. The body is powerful, elevated, and smooth, and this blockbuster finishes like a strawberry bomb, and lingers through to the next sip.
And completing this set, the Petite is crafted from our Biodynamic vineyard. The nose is dark chocolate mousse, coffee grounds, blueberry pie, and freshly baked bread. The palate is refined but full bodied, and layers together all kinds of wild fruit- blue to black to red. It's an intriguing berry blend that lends complexity to the palate. The acidity becomes visible during the finish, and as always fruit swoops in for ground support.
These wines offer something for everybody, and also would be a great pairing trio to go with any holiday meal. The gift set includes these three delicious wines, a lovely gift box, a gift card that can be personalized, and a 2 for 1 Homestead Tasting certificate. Shipping is a flat fee of $15 but is waived for our Wine Club members.